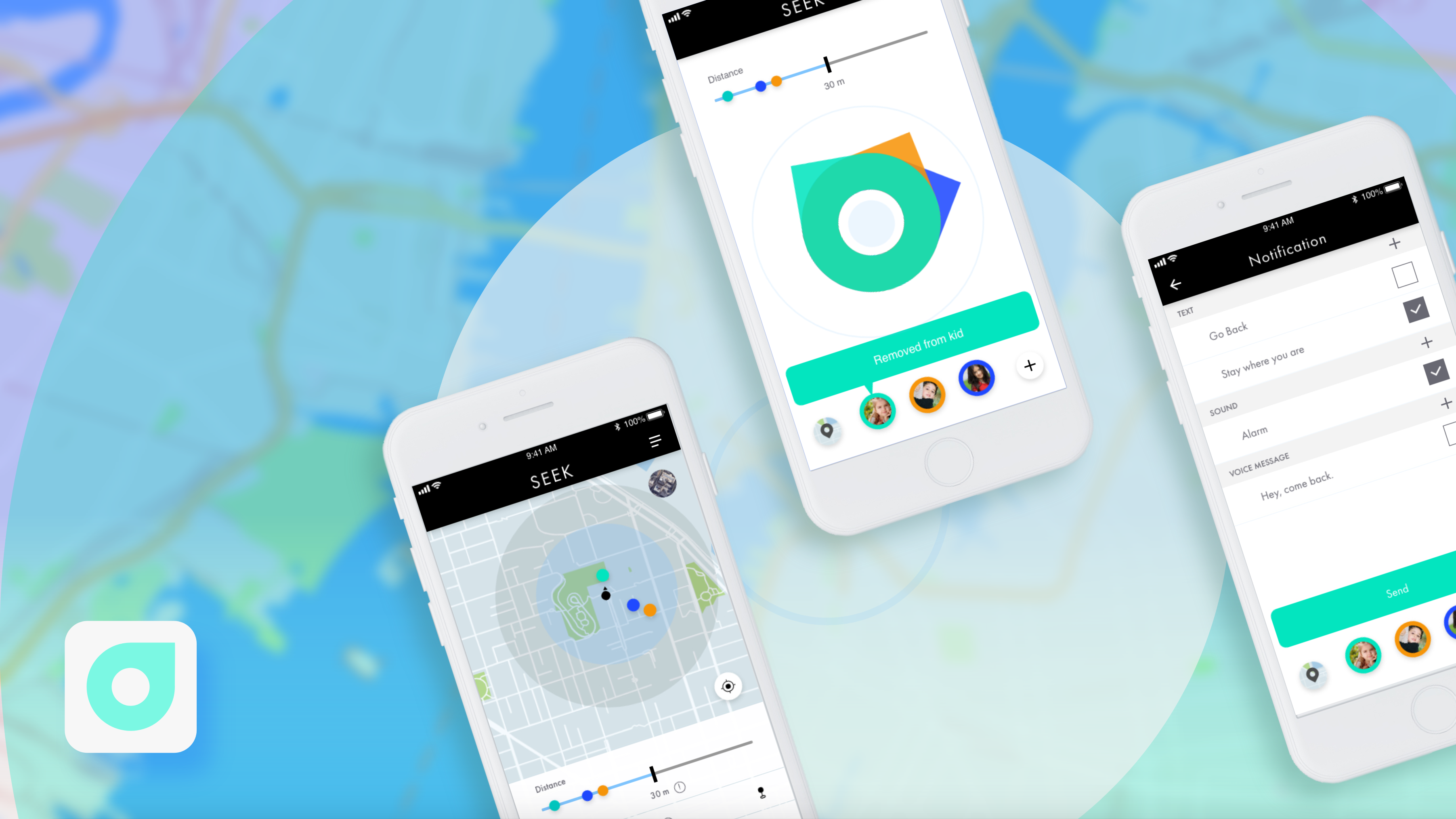 ︎ PROJECT OVERVIEW
︎ Problem
Parents are often fearful that their kids get lost when the family goes out to somewhere crowded, especially for young kids who still lack the skill of self-navigation,
︎ Product Solution
The product solution is two-fold – first to develop a GPS tracker for children and second to develop a smartphone connected app.
︎ Challenge
The main challenge is to define a clear value proposition and create unique product differentiation in the competitive landscape.
---
RISD + MIT Product design & develoopment Studio

User Reserch / User Interface 2018

︎ TEAM

Business
Shai Dekel Engineer Wendel de Oliveira Afonso (with us for the first half of the project*)

Mechanical Engineer Gabriela Barrera Howard Lewis Lee

Design
Nicholas Hinckfuss | Watch Industrial Design Qingyi Li | UIUX









︎ PROCESS & MY ROLE


For concept generation, we brainstormed and prioritized as a group outside of class time, meeting everyday on a weekend if need be. Once in agreement with the general pillars of the envisioned product, we again organized into smaller teams, the app team and the wristband team. I was with the app team.

Once we determined a main concept and the top features, we split into three groups. One group worked on the functional prototype (electrical components and connected app), a second group worked on the looks-like models and visual representations, and a third group worked on manufacturing and business development. I was with the second group. Although we had specific areas to work on, we still helped each other, especially in areas that overlapped and were related.


︎ What we all did together
Mission statement
Market research
User Research
Concept generation and selection
Assessment of Failure Modes and Risks
Initial App ideas: define the function of the App
Works like model development
Prototype including the interface and 3d model
Test proof of concepts
Test in-house/with users (app)
Focus Group evaluation
Material Selection
Components selection
Competitive Benchmarking
Schedule and strategy
︎ What I did
Sketching & Wireframing
Information architecture
User test & Iteration
App Prototype
Watch Interface
UI design
---
︎ What my teammates did
Sensitivity analysis
Potential markets
Competitive analysis
General management (meeting, notes)
Mechanical Engineering (the watch)
Software Engineering (the app)
Physical product user test
3d model of the watch
Vender selection
Financial Model
Bill of Materials
Patent Review
Life cycle analysis
Technology Research
Manufacturing plan
(I am not going to show any of those processes not becasue they are not as important, but becasue I was not envolved*)
︎ RESEARCH PART ONE - USERS

TARGET GROUP

Based on our initial research, we believe the issue is most pressing for families with child from age 4-7 when they are most playful but still lack of sufficient self-navigation. Parents of have stated that children from this age range are more likely to explore new things leading to more at-risk behavior. They are still socially forming and testing the boundaries of acceptable and non-acceptable behavior, and as such, our product can reinforce the setting of lasting safety-conscious behavior during this critical period of cognitive development. Beyond the age of 7, parents have stated that they are less concerned as by then children have been trained and can be relied upon to make sound decisions.

METHODS

Our team conducted three forms of research to identify needs: interviews, observational studies, and surveys. With two fathers on our team, we also identified needs and customer pain points through their experiences.

︎ The Observational Studies

The observational studies were conducted at a mall and at a park, mainly identifying interactions between parents and their children. No pictures were taken since we did not have formal authorization.

︎ Interviews

Each of us has interviewed 2-3 parents within our personal networks because parents are sensitive about sharing informations about their kid. We completed a list of needs based on our interviews. We also received anecdotal stories about parents losing track of children and what ideal products they would prefer to track their children's location, which included wristbands, pins, GPS devices, earrings, and something similar to Tile devices.

︎ Survey

We received 23 responses from a survey that was sent out to graduate students in family housing and our friends/acquaintances that are parents. Most parents had 1-2 children, aged 3 months to 17 years old. Most parents are concerned about losing track of their children at amusement parks/carnivals/zoos and while travelling or on vacation.

- INSIGHTS:

Because the lost experience is the worst nightmare for parents, we want to understand how they feel during the process. We have also generated a few insights based on this mood map.

1. Parents feels the worst while tracking. The product should make decisions for the parent now instead of forcing them to think while they are extremely stressed.

2. Reputation among peers is very important for parents. Some parents stated that they will not tell their friends or even another parent about the lost because they are blaming themselves for not being good parents.

3. Parents usually teach their children about how to deal with the situation if it happens again. It would be good if we can help this process.


USER NEEDS

Exhibition 2 : Identify Needs
User needs (Parents and Children)
Based on our research to identify user pain points and associated needs, we identified basic, performance and potential latent needs. We would want to explore further and focus on for our concepts to solve the latent needs.
Parents needs:
"Immediately felt a sense of fear, sickness, and urgency to find her "
Basic need: I need to locate my children.
"Would need to know it's working."
Latent need: Need update all time.

"Won't rely on bands, still have to see them" "I am always Glancing" " I check constantly"
Latent need: Need a visual / virtual connection similar to maintaining line of sight on children.

Children needs:
Basic need: Comfortable and easy to use
Performance need: Fun
Latent need:
Don't want to feel tracked.Latent: Don't want to feel tracked.
︎ RESEARCH PART TWO - PRODUCTS
EXISTING PRODUCTS
We have found quite an existing competitive market. We are exploring two product concepts for both children and parents. For children, we are considering a wearable and an insole. For parents, we are considering a smartphone app and a watch. A variety of similar products already exist with varying features. So the next step is to identify what is still missing from the existing products, in order to design a better solution with a clear value proposition.
In the market, there are a number of devices that aim to serve this parent's need of being able to find their children, ranging from approximately $25 to $200 in price. Functionally, the features that appear commonly include: alerts and notifications, water resistance, geo-fencing, panic button, calling and messaging, safety zones, reward systems, real-time tracking, tamper alert and lock, learning activities or games, and indoor/outdoor use.
Despite the many players that are out there, adoption is not that widespread yet and after studying customer feedback, we have identified that this may be due to three primary reasons:
Low reliability and fidelity of existing products:
A significant number of customers stated experiencing product failure within weeks of purchasing the device (power failure, connectivity issues, or random shutdowns).
Overengineered, and thus needlessly high-priced products:
Many devices imitate the feature stack of a fully functional smartwatch, such as an Apple Watch, through its claims to provide messaging and cellular connectivity confusing the market on its positioning and drawing comparisons.
General skepticism and lack of confidence in products:
Throwing feature after feature to parents do not seem to completely absolve the underlying anxiety and other fears, whether irrational or not, parents have
︎ CONCEPT
︎ CONCEPT GENERATION


Based on the listed needs of parents and children, each team member formed about 10 initial concepts on their own. Following the hybrid approach, each member posted his or her top 5 concepts using sticky notes on a board. We categorized the concepts into various physical devices and functional areas.

Device for Children
shoes, watch/band, clothes, band-aid, toys, barcode (similar to a stamp with a trackable code), and pin/tag.

Device for Adults
app (phone or smartphone), watch, band, ring, or something similar to a fidget-spinner.

Functional Areas
attachment methods, interaction features, charging methods, and notification methods.


︎ CONCEPT SELECTION

In order to rate and select concepts that address the most important needs, we created a scoring matrix with scores ranging from 1 to 5 for both parents and kids needs. We averaged individual scores from each team member. We used weights to prioritize key needs and to improve the overall quality of results.

Based on the scoring matrices, the top 3 concepts for children were 1) Shoes, 2) Band, and 3) Pin/Tag and the top 2 concepts for parents were 1) App and 2) Watch.

After discussing these results, each team member developed refinements of these top concepts individually and proposed their ideas. As a team through consensus, we down selected and decided on the final concept for children: Attachment option that could be a band or pin attached to a shoe, backpack, etc. The concepts for the parents stayed the same. We also considered the location technology that we will include in these concepts, with an initial focus on Bluetooth Low Energy (BLE) and GPS tracking. We are still in the process of looking further into other technologies, including Wi-Fi and cellular networks (using SIM Cards).



︎ USER FEEDBACK - ITERATIONS


User feedback is very important for us during the concept development process. We kept asking feedback and iterating quickly. I made several protypes and asked for feedback from parents through out the process. Because many time, people don't know what they want until they see it. The user feedback also altered our direction.


︎ Version 1

Feedback & Insights: Parents like the app to be light and colorful. They think the emergency help is useful. However, they don't want to read it because it made them anxious.







︎ Version 2

Feedback & Insights: The helpful features looks scary. According to the feedbacks, although parents do believe that those features are helpful. They do not want thoes functions because the app itself is keep reminding them that they might lose their children. They do not want to image and walk though the process.


︎ Version 3
Feedback & Insights: According to feedbacks from a mother, she would like to have the same thing as her kid. She want this app to be more like a game rather than a tracking system.So I made this version to gain more feedbacks. However, it seems too childish and straight foreward.
We need to find a more subtle way to convey the idea of the "GAME".
︎ Version 4
Feedback & Insights: Parents like this version since it balances the
playfulness
and function really well. However, they would like the color to be more
gender and age neutral.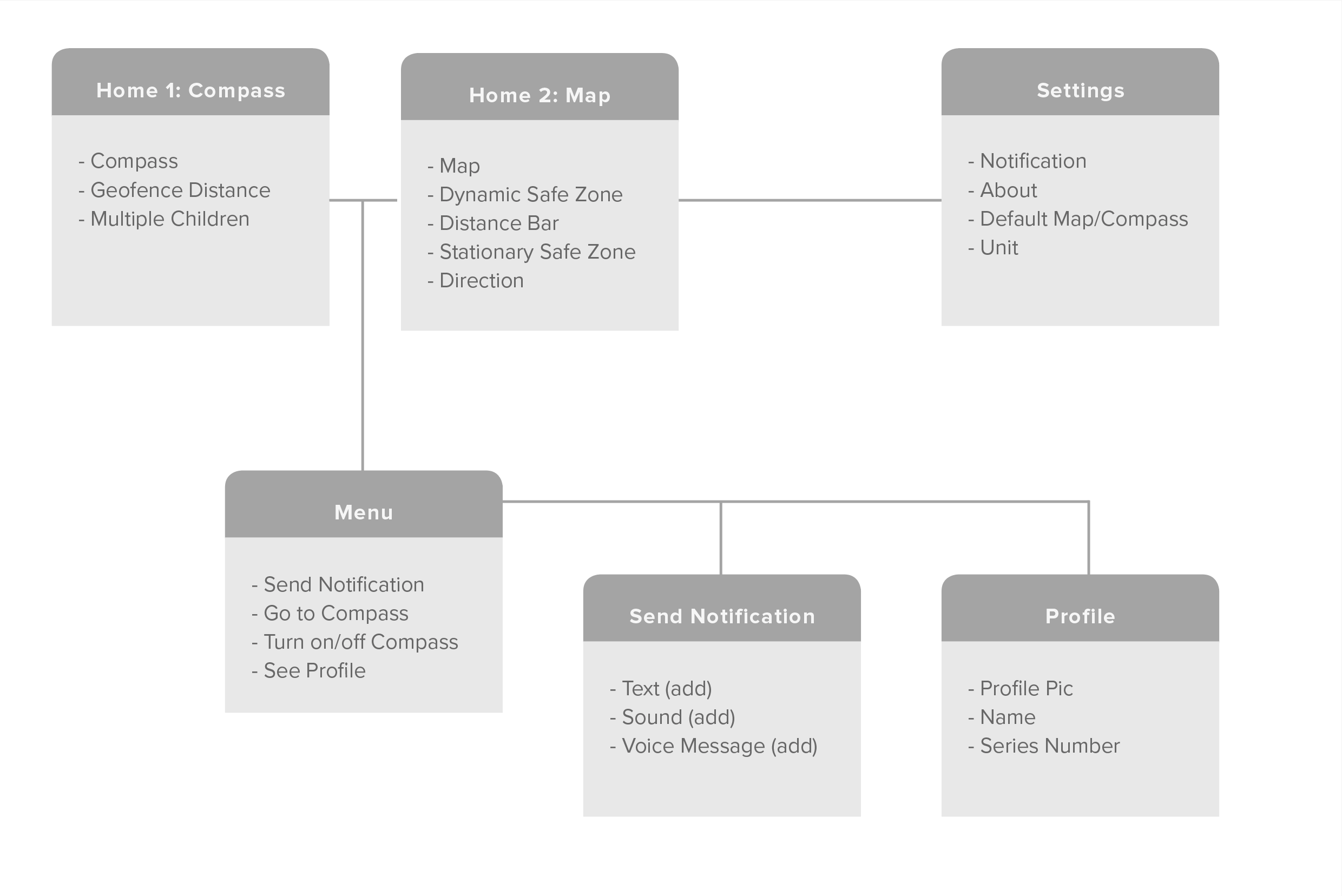 From here we are basically set with the content and wireframe, the final design would be a step forward to tighten up the interface.
︎ WATCH
Children will have their GPS & Bluetooth locator in this watch. We want to keep it clean and simple. During interviews, we learnt that parents prefered a real-watch-like locator with the time displaying.
︎ Shape Test
Parents mentioned that it is important that children wear the watch more if they like the look of the it. So I made graphics to ask for feedback. Children liked the round one better because they think that looks like an eye.
︎ Changable Band with Different Colors
We decided to keep the watch shape round and have the band changable. Children can choose the color they want while purchasing.
Prototype

︎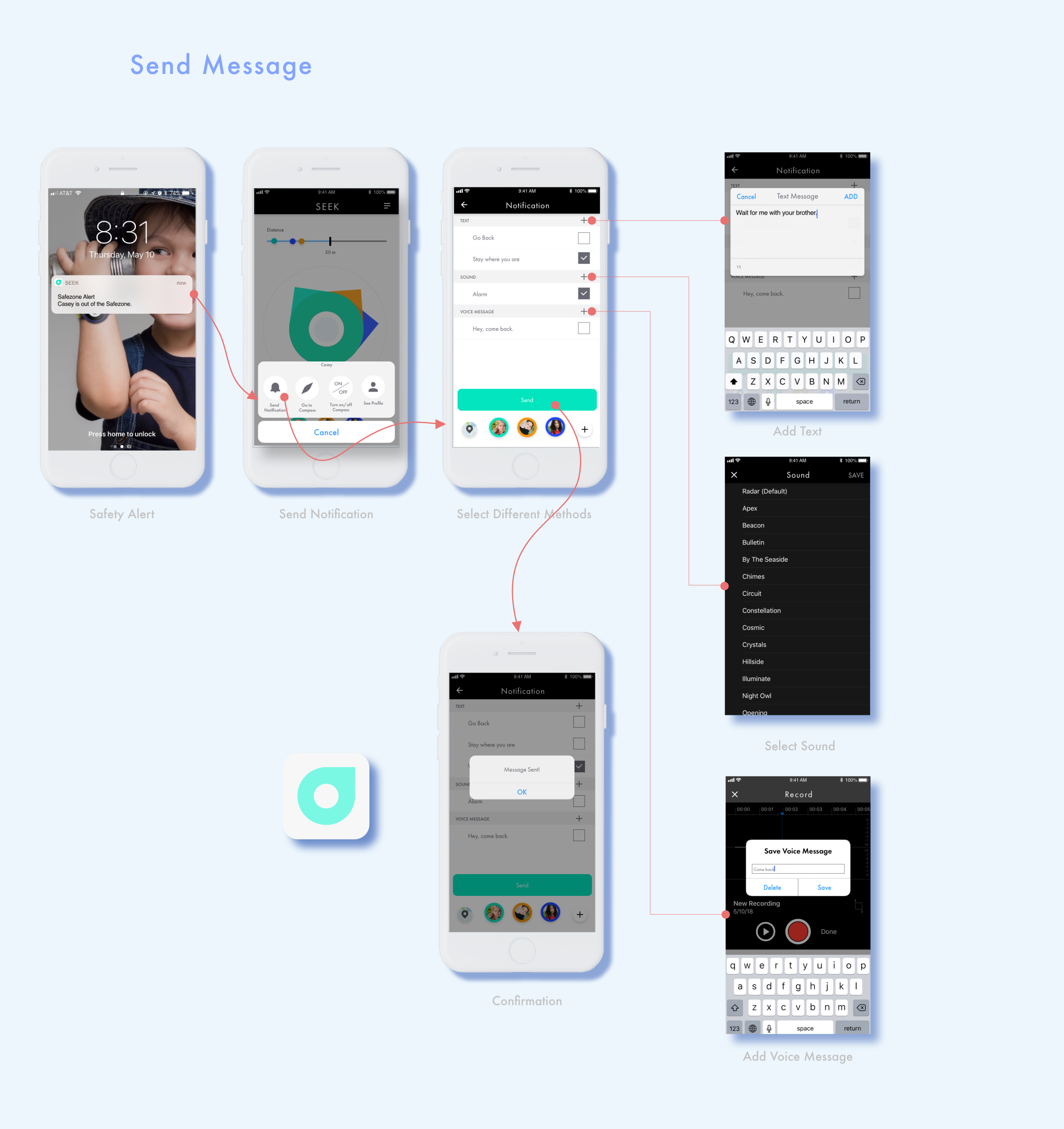 ︎ Send Message
︎ Set Up Profile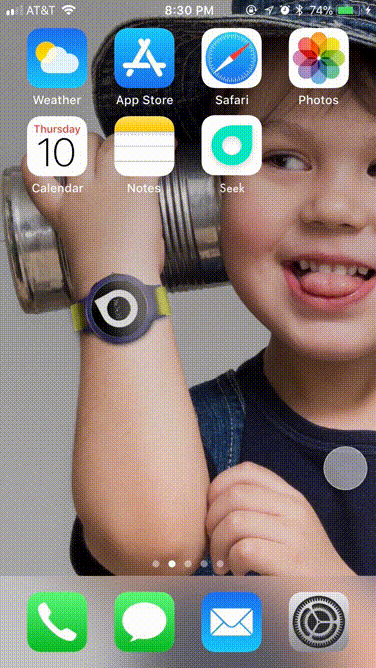 ︎ Safe Zone Selection


︎ Costomize Message